If you follow me on Instagram you'll have seen me proudly parading my handmade knitwear for the past month.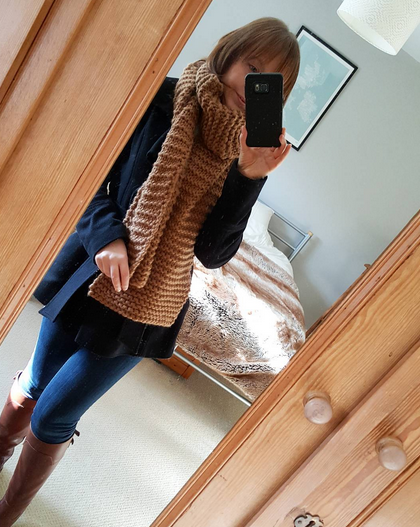 All too soon, my month of wearing my own handmade knitwear is drawing to a close, so I thought I'd reflect on one of the fastest months of my life ever -sharing what I've discovered during this experiment, how my feelings towards my own knits have changed and how I plan to carry on.
I have key favourites


Despite having plenty of knitwear to fill more than a month of outfits, I definitely didn't wear everything. I love everything I've made, but among the knits I wore, clear favourites emerged. Namely Anais, Aviary, Honeymaker and Curcuma. Which means…

…I'll be picking my projects much more carefully going forward


The aim of the game is to #wearyourknits – so why spend hours and hours creating something that in the end you're never going to wear? There are certain things I've made that I just know I won't wear now. Either they don't fit properly (bad gauge from early knitting days), the colour's wrong, or they just aren't "me" any more.

Don't be afraid to frog a finished project


In the cases where I've clearly not worn a finished knit for ages, frogging is a valid option. I'm against keeping my hand knits for sentimental value only. Better to make it again with a better fit, or to reincarnate the yarn into something more beautiful!

My style has changed


Some of my knitwear has been in my collection for at least a couple of years. In that time of course personal style changes. For me this just reinforces my need to pick classic patterns that I know won't date for me – meaning I'll get years and years of wear out of them.

I shouldn't be scared to wear my knits


My knits are a lot tougher than they look, and I shouldn't be scared to wear, spill, wash, repeat.

My knitwear is more autumn/winter based


I'll certainly be picking some summer patterns next, so I can wear my knits all year round.
I hope my little challenge has given you food for thought! It's certainly changed my attitude…
Happy knitting everyone
x
Links to the patterns I've worn this month include: Anais, Aviary, Curcuma Shawl, Fingerless mittens, Honeymaker Sweater, Lily Slipper Flats (part of Home Collection), Mellow Sweater, Mohair Bias Loop, Olga Sweater, Ridgeway Scarf, Robin Shrug, Top Notch Tee, Winter Buzz Mittens.
Save
Save
Save
Save