Often the simplest designs are the most effective. And that's never more true that with my latest free knitting pattern, my Bria Armwarmers. Knitting on DP needles in stockinette stitch, featuring a very small ribbed cuff at both ends.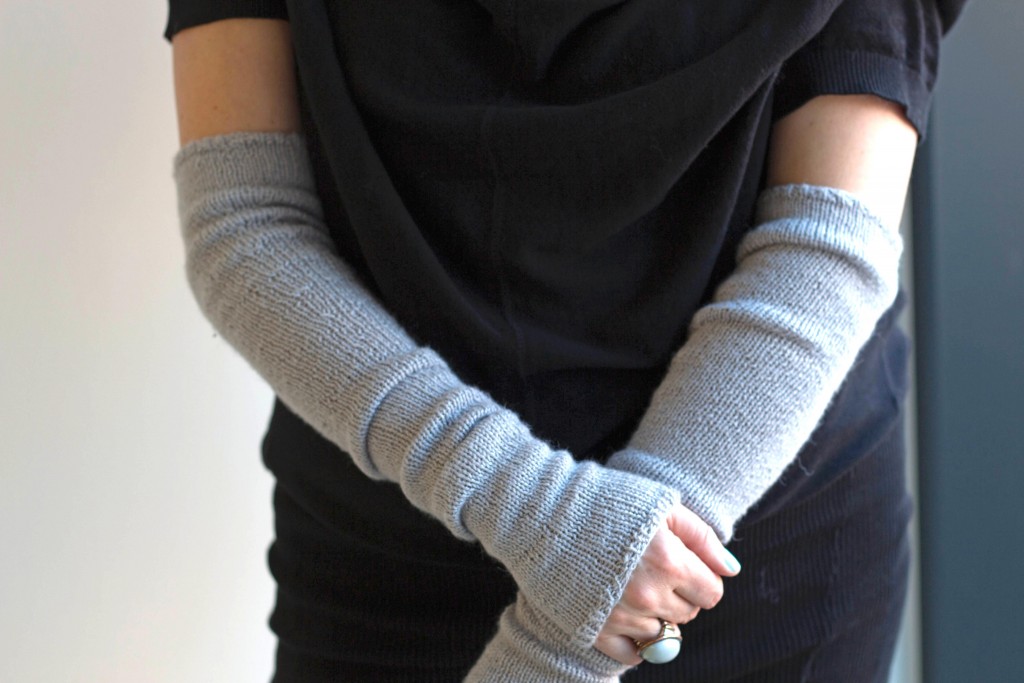 Bria pattern
Yarn: 2 skeins of Drops Baby Alpaca Silk in Light Grey (8108)
Needles: 3.25mm DP needles (US size 3)
Gauge: 25 sts x 30 rows per 4″ in stockinette stitch
Key:
K – knit
P – purl
K2Tog – knit two stitches together (creates a right slanting decrease)
SSK – Slip next two stitches one at a time knitwise, insert left needle into front of both stitches and knit together (creates a left slanting decrease)
Dec rnd – Decrease round

Pattern:
This pattern is knitted in the round on double point needles.
Cast on 52 stitches. Place marker at the beginning of the round, being sure to not twist your stitches.
Ribbed cuff:
Rounds 1-3 – *K1, P1; *repeat until end of round
Shaped decreasing:
Rounds 4-19 – K all stitches
Round 20 – (Dec rnd) K1, K2Tog, K until 3 stitches remain, SSK, K1 (you have decreased two stitches, and will now have 50 stitches on your needles)
Round 21-29 – K all stitches
Round 30 – (Dec rnd)  as row 20 (you will now have 48 stitches on your needles)
Repeat rounds 21-30 four more times, until you have 40 stitches on your needles
Knit like your life depends on it:
Knit all stitches for another 81 rounds
Ribbed cuff:
Repeat rounds 1-3 for another section of ribbing, then cast off in knit/purl rib. Weave in all ends and you're done!
Happy knitting!
x