Love is in the air….and I want to share with you my brand new FREE knitting pattern!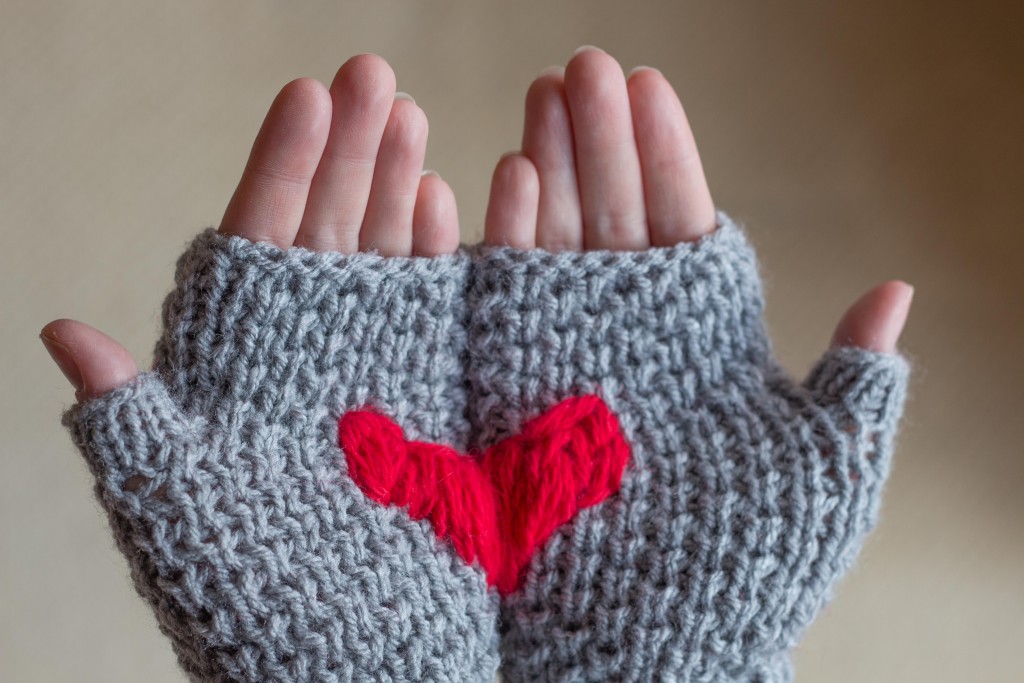 Heart Mittens
These fingerless mittens are knitted with a ribbed cuff and a variation on the simple bee stitch. My favourite stitch by far – it can look a bit daunting at first, but it's actually really simple. The difference here is, instead of purling all stitches on the first and third round, you knit one purl one.
The only problem is bee stitch knits very loosely (and I'm speaking as quite a tight knitter), so you have to decrease dramatically once the ribbed cuff is done, to make sure the mitts fit correctly. Enjoy this free knitting pattern!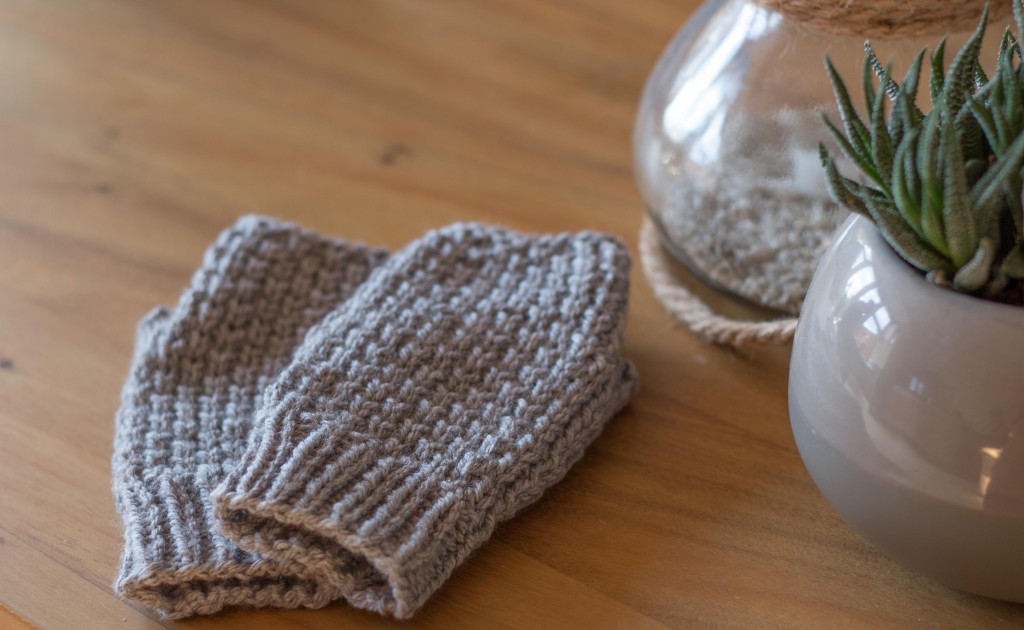 Yarn: Any aran weight yarn (be sure to check gauge with a bee stitch swatch)
Needles: 4.5mm double point needles
Gauge: 12 sts x 16 rows per 4″ in bee stitch
Key:
K – knit
P – purl
Bee Stitch Repeat:
Round 1: (K1, P1) repeat
Round 2: (K1, K1 below) repeat
Round 3: (P1, K1) repeat
Round 4: (K1 below, K1) repeat
Cast on 28 stitches using long-tail cast on, being sure to join your work in the round without twisting the stitches.
K1, P1 rib for 11 rounds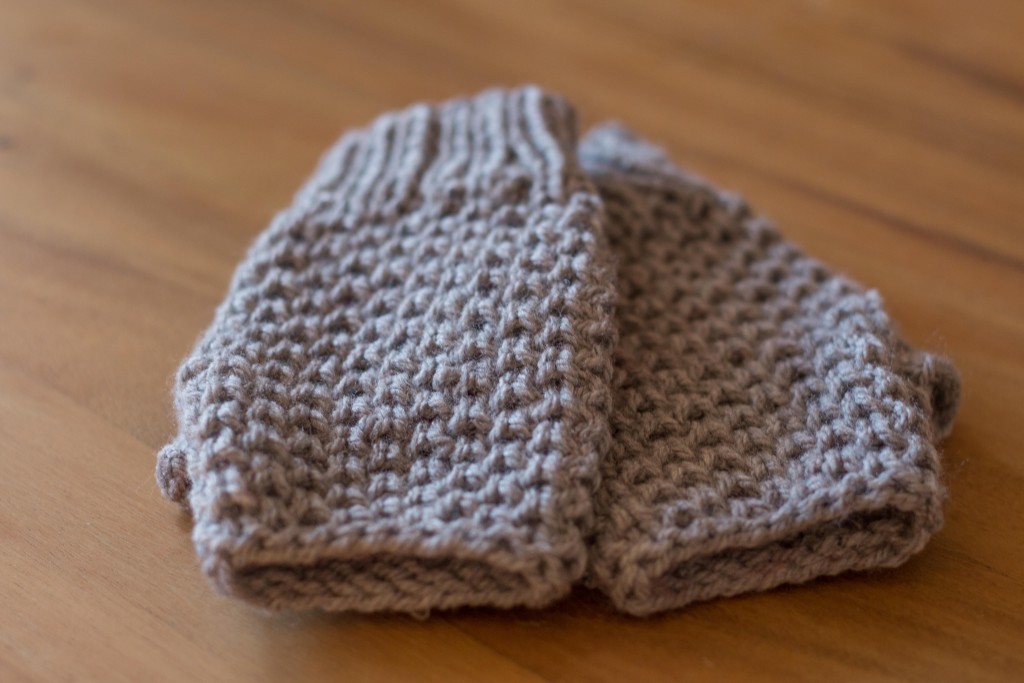 Decrease round
This decrease round counts as your first round of bee stitch repeats. After this round, follow 'Bee Stitch Repeat' as instructed above.
K1, (P1, K2TOG) repeat brackets a total of three times, P1, (K1, P1) repeat ribbing five times in total, (K2TOG, P1) repeat brackets a total of three times. Six stitches decreased. You now have a total of 22 stitches on your needles – evenly spread these around your DP needles and continue onto round two of bee stitch repeats.
Bee stitch pattern
Start with round two of bee stitch pattern and repeat the four-round pattern a total of seven times (ending after completing round four).
Slip the last two worked stitches from your previous round onto a stitch holder (2o stitches on DP needles now). Then continue working in bee stitch, repeating the four rounds a total of five more times. End after round four, then cast off all stitches purlwise.
Thumb
Pick up and knit six stitches around thumb hole, then knit the two stitches from the stitch holder. You have eight stitches in total.
Knit three rounds for the thumb, then cast off all stitches knitwise. Weave in all ends and repeat the whole pattern again for second mitten.
Embroidery heart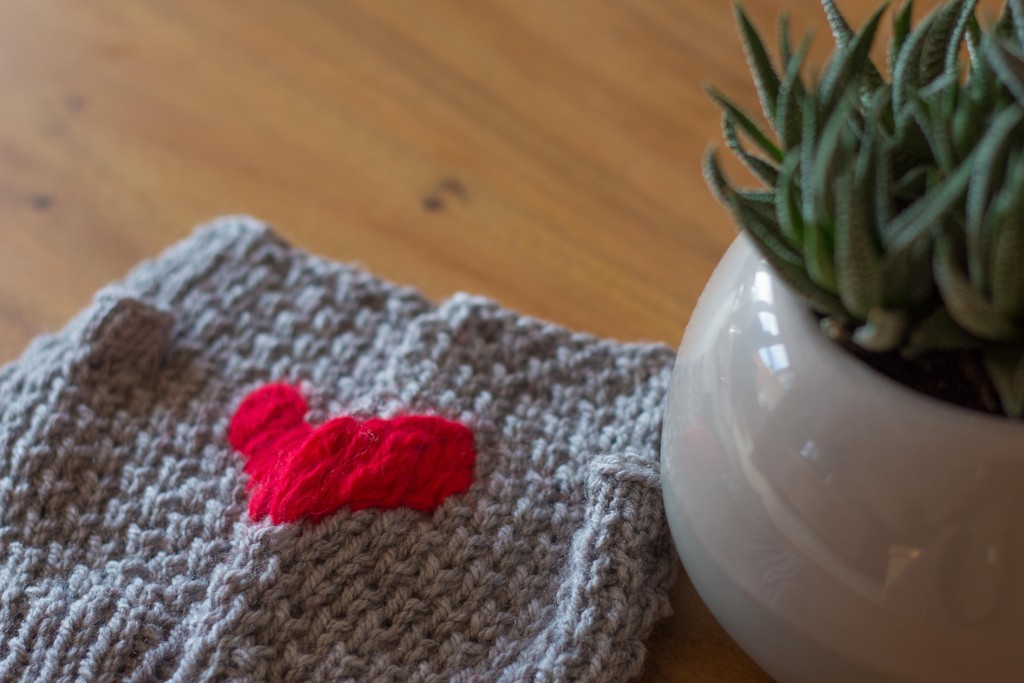 If you choose to add an embroidered heart, you can mark an outline onto your mittens using fabric chalk, or wing it with pure gut instinct! Living dangerously 😉 You can use any yarn to do this. I chose some leftover Pickles Angora in lipstick red and embroidered double-stranded, so that my heart motif really jumped out and contrasted against the aran grey. Knit half of a heart onto the edge of each palm, being careful that the motif doesn't creep round to the top side of the mitten. You want to be able to only see it when palms are turned up.
Happy knitting!
*This 'bee stitch' pattern is inspired by and adapted from a pair of Pickles baby mittens – check them out here!