I'm so pleased to introduce you to an amazing knitwear designer Veronica Shaw of Fishtail. Her unique and individual patterns are instantly recognisable to me, and yet they are wonderfully straightforward knits to pick up, with quite a few of her projects being able to be completed in one quick sitting. I have had the pleasure of testing one of her knitting patterns over the Christmas break and found I'd completed my triangle shawl in just two short hours! Veronica is driven by a passion to introduce as many people as possible to the beautiful craft of knitting through her stunning knitwear designs, which in my opinion can be picked up easily by the complete beginner through to the expert crafter.
I want you to get to know this independent knitwear designer as well as I do, so Veronica very kindly agreed to take part in my latest Q&A. You can find Fishtail knitting patterns frequently featured in Let's Knit magazine and new patterns will be launching on Ravelry very soon, so keep your eyes peeled and knitting needles at the ready…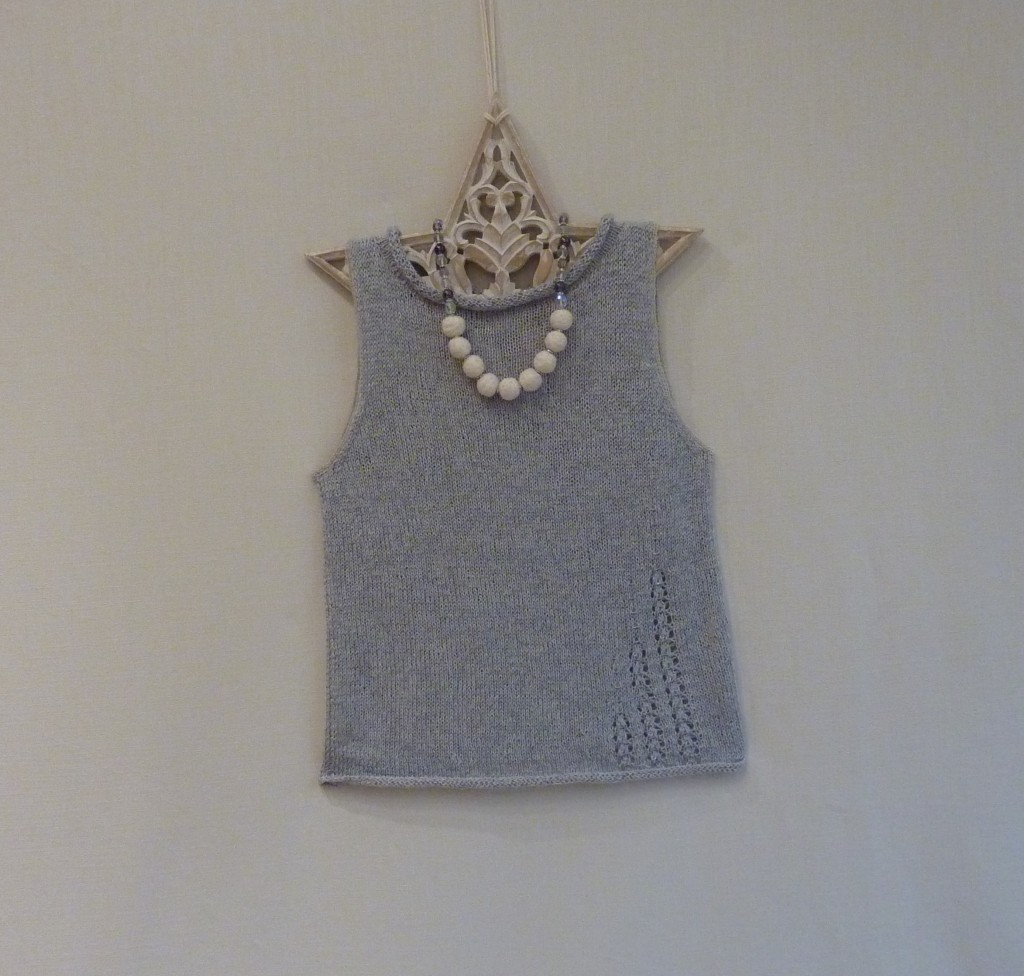 1. Where did your love for all things knitting, dying and spinning come from?
My mum and dad plain and simple.
Mum was an amazing knitter and I have always aspired to her level. She made so many things and my favourites were two replicas of Yogi and Boo Boo Bears. I dragged those around with me everywhere but unfortunately they literally fell to pieces over the years and I only have the memory, but it is one that's full of love as that was a very good time with my mum.
My dad, who was an engineer made everything, well almost everything. I recall spending much of my childhood with him in his garage/cave helping him to make and build things, passing him screwdrivers, spanners and hammers. He made me my first dolls house and we had a lot of fun filling it with furniture and decorating it with my mum helping with the soft furnishings. Between the two of them I learned to problem solve and be practical but most of all creative from a very early age.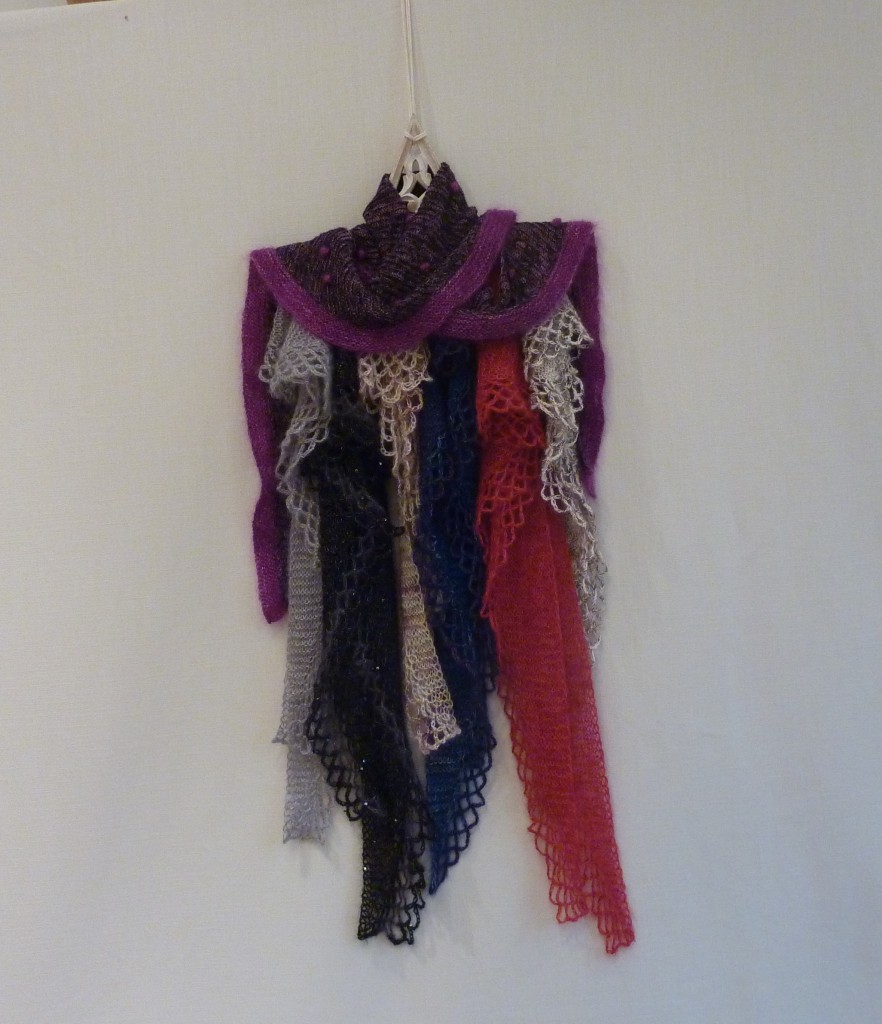 2. Can you tell me a little bit about your company Fishtail?
Fishtail has been a forever evolving little business and is now reaching a culmination with all things knitted and a bit of crochet thrown in. This is where I am most happy as I have covered many crafts and at one time bespoke interiors travelling in and out of its doors. A few years ago, realising knitting was my first and foremost passion and wanted to do for the rest of my days I approached the editor from Let's knit and I have been designing and contributing for them ever since and specialising in bespoke commissions covering cowls, scarves, stoles and shawls with a little bit of jewellery thrown into the mix. My work in the past for Let's knit has been geared very much to the magazine themes and my other work is more to the glamorous aspect of the world of accessories. You really can't have too many, a bit like handbags and shoes.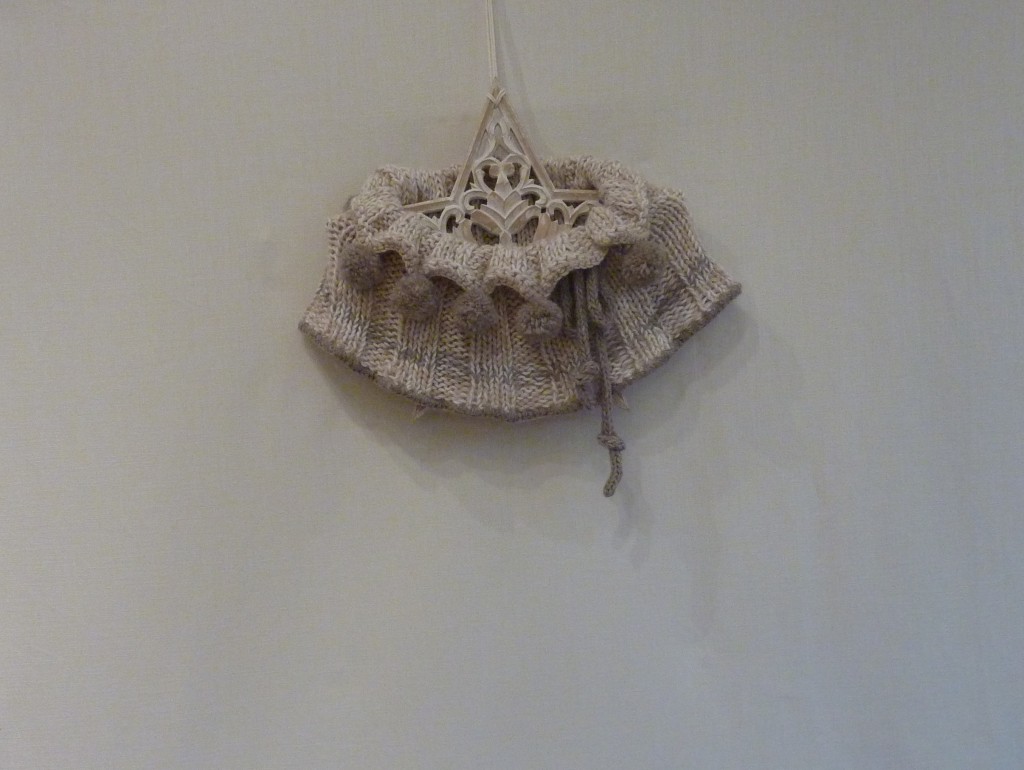 3. Where do you get inspiration for your knitting patterns?
ahhhhhhhh, inspiration…..this can be triggered off by a beautifully hand dyed ball or skein of yarn or a simple stitch and changing it a little to work with the yarn in so many ways or a fashion photo vintage or contemporary. There are so many wonderful yarns out there and many do the talking for you be it plain or coloured incorporated into a very simple design. I always think I am creating a fabric that no one else is, even if the same item is knitted by someone else it takes on a personalisation all of its own. In my workshops I have been amazed at what different people can make of similar balls of yarn. I tend to work geometrically with a feminine twist on the finishing and technicalities and love pom poms, felt balls, buttons and bows, bobbles and holes. It's wonderful how you can create with two bobble ended sticks and some posh string and just knowing a few prime skills and perfecting those.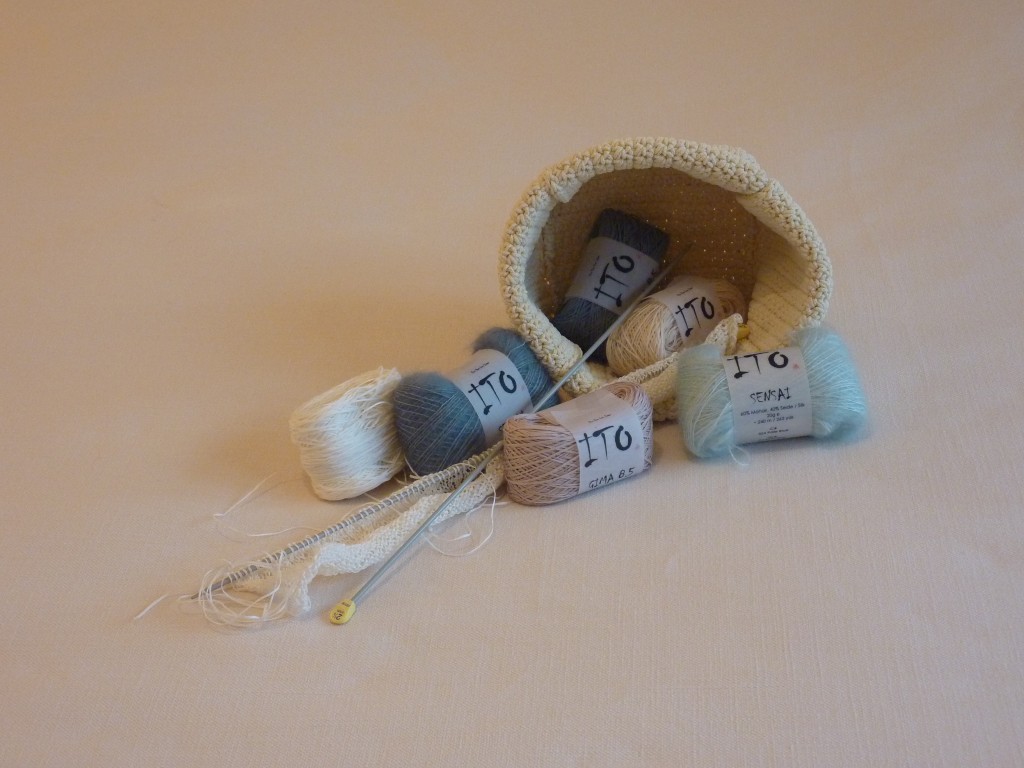 4. Do you have a favourite yarn that you like to work with?
My favourite yarn of the moment is the yarn I am working with at any one moment in time. i.e. anything that is beautiful. It can be thick, thin, textured, pastel, highly coloured, natural and of course all of the different fibres are unbelievable; silk mixed with merino, linen mixed with silk, cotton and linen, cashmere and alpaca, yak and mohair all feature in my designs. I love mixing different fibres and yarns together to create a new yarn and whilst this is perfect for my bespoke commissions as I have a wealth of yarns to call upon from my collection, it is not so simple for commercial patterns.
At present I am working with pure linen, and a linen silk, Shibui 'twig' for summer wear. Come January 1st I put down my big needles and talk thin in more ways than one.
I am away on holiday soon and am taking four balls of Ito cotton Gima 8.5 and two balls of Ito Sensai (a Christmas treat from Love Knitting) with the brief to myself being for a stole that is lightweight, stocking stitch only and to be large, voluminous and floaty and be able to pack very small for travelling both whilst making and carrying when completed ready to wear with possibly an integral travel bag all of its own. That's a tall order when only doing stocking stitch, there could be the odd lace stitch thrown in now and then.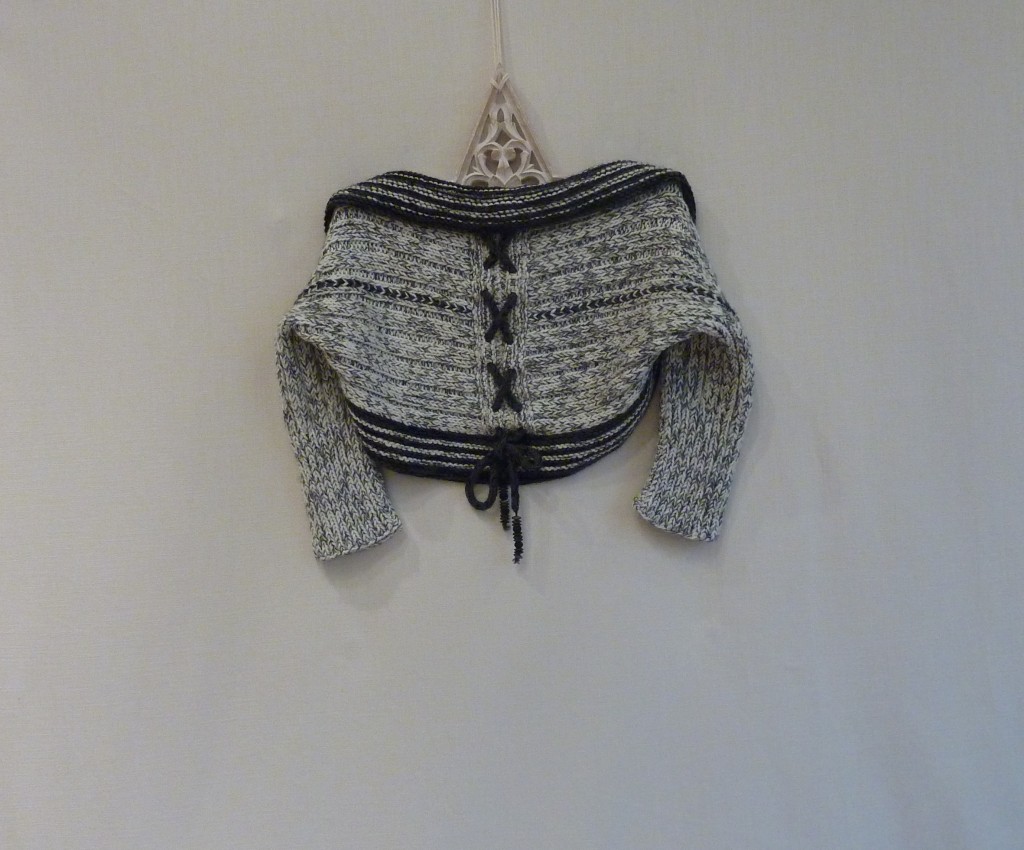 5. Have you got any hints or tips for anyone interested or starting to learn to knit?
Buy a good beginners book: Debbie Bliss books and magazines cater for beginners right through to experienced with more complicated designs: Erika Knight has a good one called 'Simple Knitting' and one of my favourites (because I love garter stitch) is called Great Garter Stitch by Jean Leinhauser and Rita Weiss; subscribe to a good all round beginners magazine such as Let's knit and without doubt the world wide web. Of course there is so much information out there now and many good writers and author/designers but I think it's nice to sometimes turn the page and see instructions unfold. It is personal choice too as it needs to appeal. Also, once you have mastered the basics venture out with your choice of yarns as there are so many very special yarns and if you are going to spend time making yourself a garment or a gift for someone special choose wisely. Your time is precious and also you want to enjoy your knitting time always. Different yarns are out there for a reason and produced for specific uses, including practicality as well as beauty. Invest in good needles and don't be afraid of making a mistake, this helps you learn as with all things in life and doesn't need to be frustrating. Most of all 'practice, practice, practice' and your efforts will transform your 'posh string' into a piece of individual art that everyone will envy no matter how simple or complicated the design.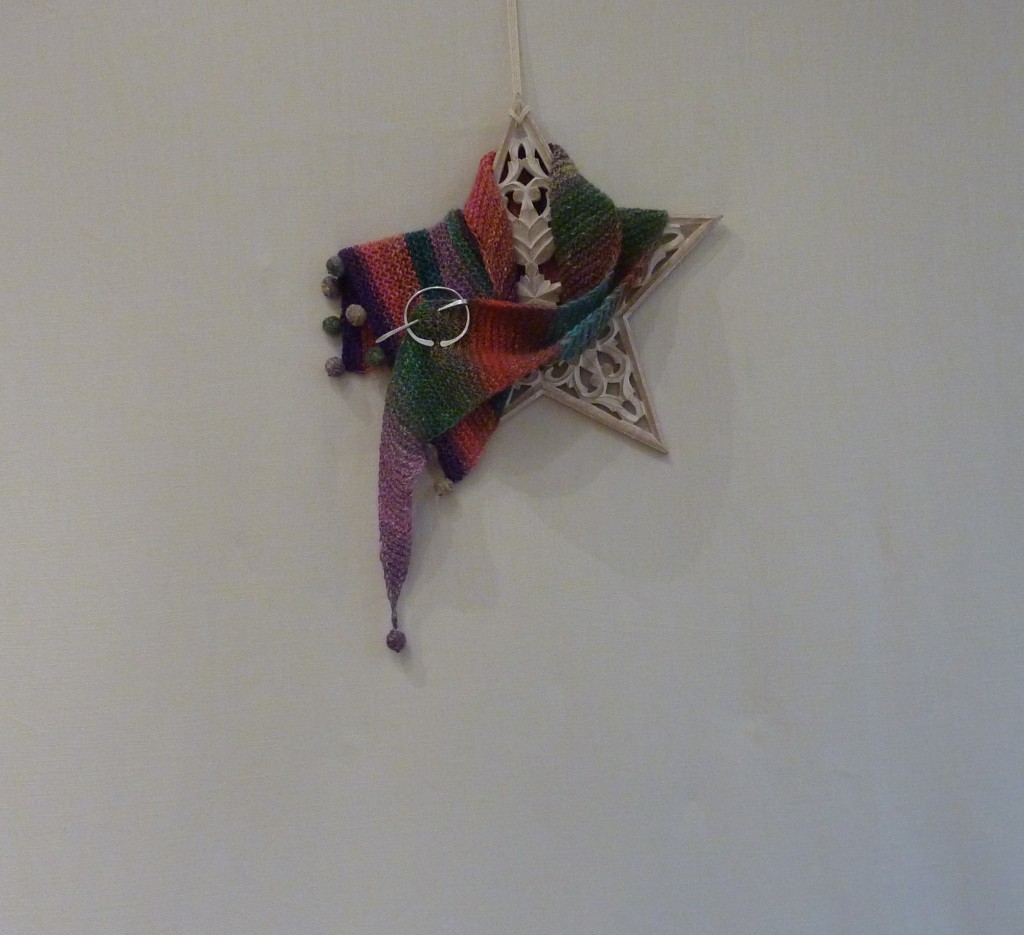 6. And finally, what's next for Fishtail?
Fishtail is on a lovely and exciting journey at present. I am constantly perfecting my art and will continue to make exciting bespoke wearables and have built up this side of my work through hard work and perseverance. I am also continuing my commissions for Let's knit as they are a great magazine to work for, frustrating sometimes but always interesting and also a new and exciting venture into the world of self publishing beginning with Ravelry in the spring of 2016 with a series of patterns aimed primarily at beginners as I love encouraging anyone who wants to 'have a go'. I will be to introducing more adventurous designs as the year goes on and look forward to all the new lovely yarns that will be coming on to the market to help me achieve this. The thought of all those lush yarns and colours just makes me want to eat them but I am off now as work beckons and I cannot wait to get 'clicking'.