Here's to baby blankets! Something I can knit on straight needles. No complicated twisting stitches, no double points and intricate yarn juggling! No fuss.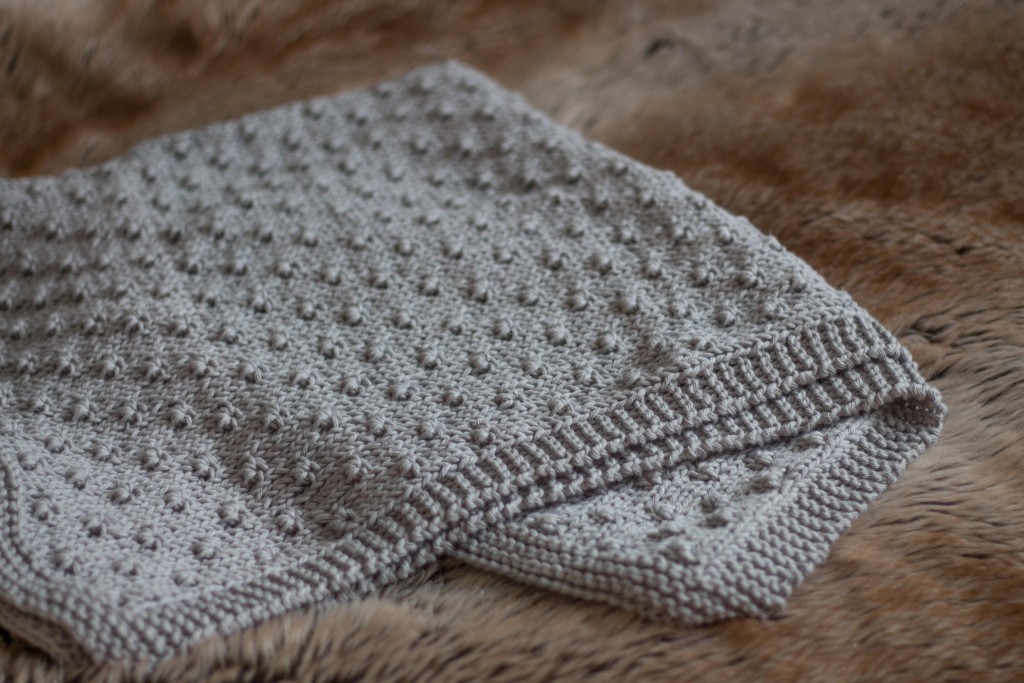 Sometimes it pays to give yourself a break. Recently I was taking on quite a lot, some might argue a little too much. But a flurry of custom orders and making stock for my Etsy shop caused me to go into 'knitting overload'. I don't normally like to double up on projects, but recently it seems that's all I've been doing. I can't complain, because it's exactly what I love doing, but even knitters need a break from knitting sometimes!
I'm my own worst enemy however, because after just a few short days of 'not knitting', I was itching to pick up the needles again! And from that little mini-break came this beauty of a pattern. After several garments and accessories, this flat knitted, easy-going baby blanket was a welcome change.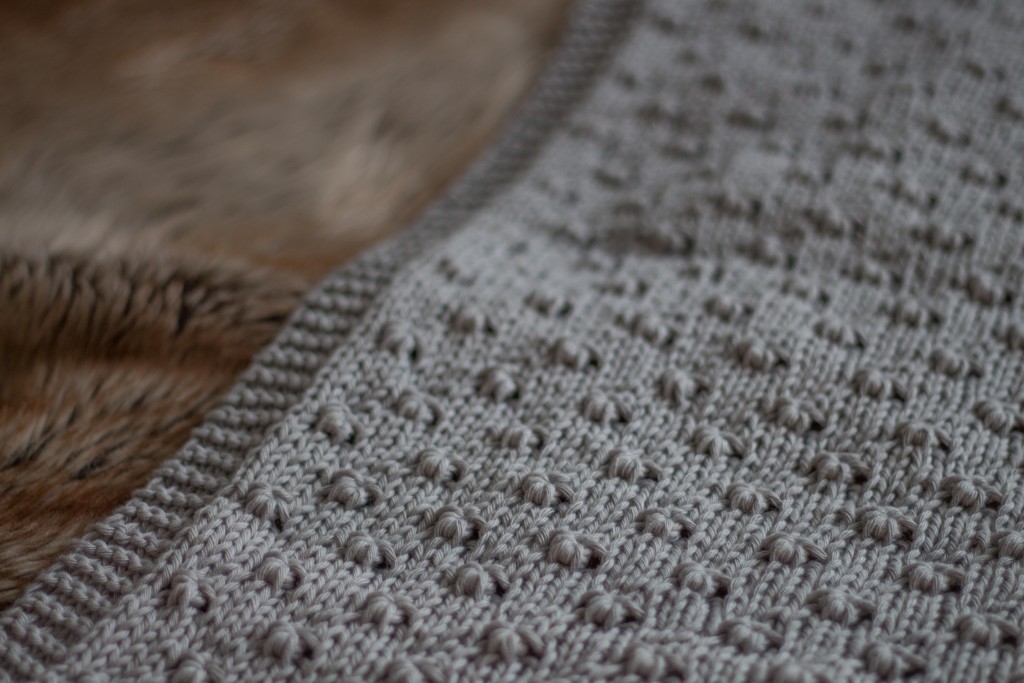 Before I say anything else, this 100% cotton baby blanket can be washed at 40°C. I say this first and foremost, because I know it's important as a parent. If this blanket is going anywhere near a baby, it's gonna get messy!
Being knitted in cotton makes for a light, flexible texture, but it's also lovely and warm (perfect for a little one). Whether they're catching some Z's on the sofa or snuggled tightly into their pushchair, this blanket will be perfect to tuck them up with!
The Knot Stitch Baby Blanket is constructed using a repeating textured 'knot' pattern, complete with a non-rolling edged border. You can easily make this blanket as big or small as you need by increasing the number of 'knot stitch' repeats within the edging. Continue reading for the free pattern, or click here for the purchasable printer-friendly PDF.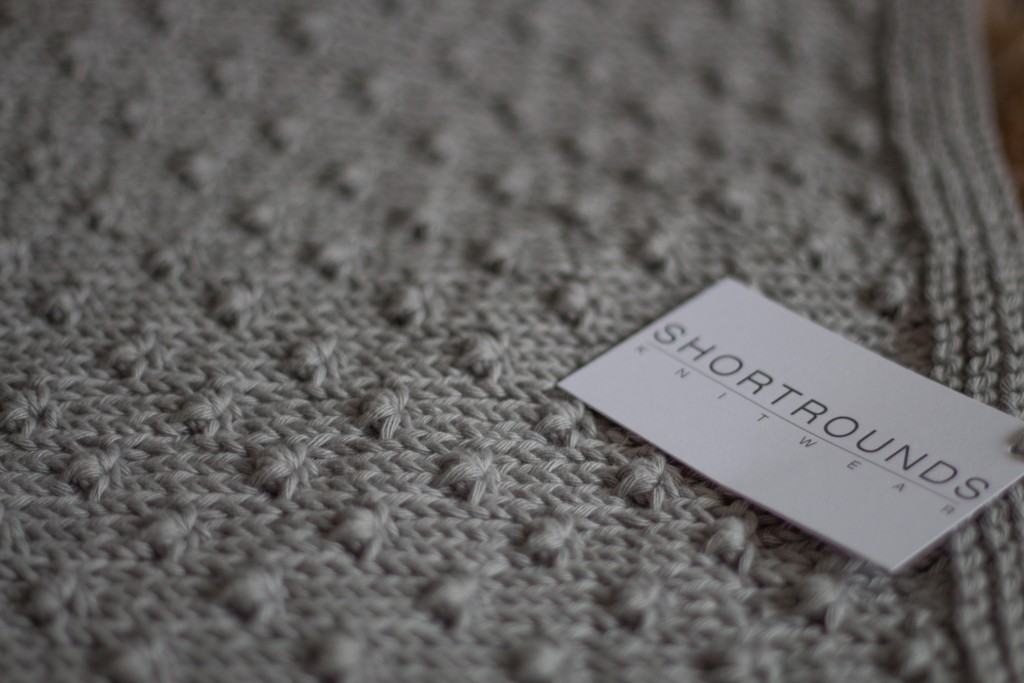 Knot Stitch Baby Blanket
Yarn: Any aran weight yarn (be sure to check gauge with a knot stitch swatch) I used 10 balls of Drops Paris cotton in light grey (23)
Needles: 5.00mm circular needles
Gauge: 16 sts x 20 rows per 4″ in knot stitch pattern
Key:
K – knit
P – purl
Knot – Purl the next 3 stitches together, do not drop them from the needle. Knit the same 3 stitches together, then purl the same 3 stitches together. Drop the stitches from the left needle.
Pattern:
This pattern is knitted flat.
Begin by casting on a multiple of 6 + 5 stitches for your knot stitch repeating pattern, then add your preferred number of stitches for a non-rolling border edge like garter stitch.
For example I cast on 137 for the knot stitch repeat section, plus 10 extra stitches for the garter stitch border (five stitches either side of the knot stitch pattern). So a total of 147 stitches for me. But this is totally up to you, as long as you follow the repeating pattern below, you can add whatever border you like to whatever size you like. 
I knitted all stitches back and forth in knit stitch for 6 rows to begin with, to create a decent sized non-rolling border. Then started with the below repeating pattern, making sure to always knit the first and last 5 stitches to maintain the garter stitch border up the sides. Then, when I'd knitted enough knot stitch repeats to create a blanket the size I wanted, I finished off by knitting another 6 rows of garter stitch.
Knot Stitch Repeat:
Row 1: Knit
Row 2: Purl
Row 3: K1 *Make knot, K3* repeat from * to last 4 stitches, make knot, K1
Row 4: Purl
Row 5: Knit
Row 6: Purl
Row 7: K4 *Make knot, K3* repeat from * to last stitch, K1
Row 8: Purl
THIS PATTERN IS ALSO AVAILABLE IN A PURCHASABLE PRINTER-FRIENDLY VERSION HERE.
Happy knitting!
x
Save
Save